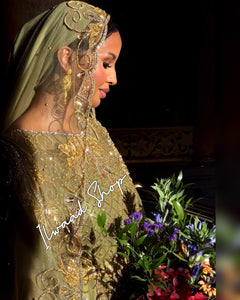 Introducing to you our FAIRYTALE FATHI Sage Green bridal dirac. This luxurious and timeless bridal dirac will make sure you stand out from the crowd!
FAIRYTALE FATHI  is 5 meters long, the perfect size for a long alluring train. FAIRYTALE FATHI is a full set with a matching gorgorad (underpiece) and lace shalmad/garbarsaar (shawl). 
This Dirac is suitable for brides wearing abaya sizes 56, 58 and 60 due to the neck line. If you are shorter or taller than that please contact us make a custom order according your wishes (like length, width & color of your bridal dirac). You can also add on a hijab and change the veil material from lace to chiffon for more coverage. 
You can find matching accessories on the website (if not available please contact us via whatsapp for exclusive jewellery for our Ilwaad Brides)
IMPORTANT: Please message us on +44 7543 385660 if you want the tailoring option if not available on the website.