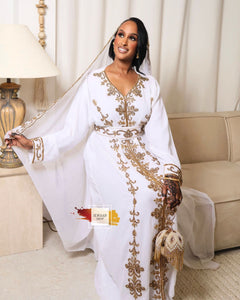 PRE-ORDERS WILL BE SHIPPED AFTER 5TH OF DECEMBER (ONCE SHIPPED 1-5 DAYS TO GET DELIVERED)
The Golden Nikkah Dress, evoking the timeless elegance of an Arabian Kaftan, is meticulously crafted as a closed abaya, making it the ideal choice for brides who wear abaya sizes ranging from 56 to 62. Its unique design allows you for easy customization of the abaya's length to suit your height, without compromising the integrity of the exquisite design.
READY MADE NIKKAH DRESS COMES WITH VEIL & BELT 
IMPORTANT: Please message us on +44 7543 385660 if you need this item with express shipping.