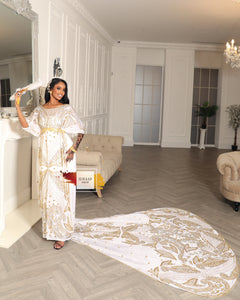 Introducing to you our ADORING ADNA bridal dirac.
Our luxury satin bridal dirac is dazzled in gold & diamonds. A darker red-purple hybrid, plum is a color that is known as royal, romantic and luxurious. The fabric is made of satin with the highest quality you can find. This stunning and luxurious velvet bridal dirac will make heads turn!
ADORING ADNA is 5 meters long, the perfect size for a long alluring train. What makes ADNA extra special is it comes in a wide unique train. ADNA is a full set with a matching satin underpiece and matching veil.  
IMPORTANT: 
THE STANDARD SIZE ON THE WEBSITE IS ONLY  SUITABLE FOR SOMEONE WHO WEARS (ABAYA) SIZE 56/58/60 DUE TO THE FIXED NECKLINE. IF YOU ARE TALLER OR SHORTER PLEASE ORDER VIA WHATSAPP
Please message us on +44 7543 385660 if you want the tailoring option if not available. 
You can pre-order this design in different colors like dark green, navy blue, dark red, black and many more in your size. Also this design can be altered in either satin if you like it to be more lightweight or chiffon fabric for more modesty with longer sleeves.
You can find matching accessories on the website (if not available please contact us via whatsapp for exclusive jewellery for our Ilwaad Brides)